If you are in London and wish to obtain a visa for Zimbabwe then you will need to contact the Zimbabwean Embassy in London for assistance. The contact details as well as a map has been added below. It is always best to call the Embassy before you go there to ensure that they are open as they are normally closed for British and Zimbabwean public holidays such as Zimbabwean national day.
If you wish to renew your Zimbabwean passport in London then the passport services, part of the consular section; opening hours are from 9am to 12:30pm – no appointment necessary. If you are applying for a visa for Zimbabwe then it takes about 10 days in London.
Passport Renewal
The Original and photocopy of your Zimbabwean Long Birth Certificate;

Original and photocopy of National  Identity Card (ID)

Your Marriage Certificate and also a photocopy, (for married women – ID should be in married name);

You will also need proof of Citizenship, if claiming citizenship in Zimbabwe by Descent

Your old/expired passport plus photocopy of bio-data page for new type passport 

A fee of £65 in Cash or Postal Order
Child Registration Requirements
Your child's UK/Irish long Birth Certificate;

Both the parents' long Birth Certificates;

Both parents' Zimbabwean National Registration Cards (IDs)

Both parents' Passports;

Marriage Certificate (if applicable) and

A fee of £25.00 (Twenty-Five Pounds Sterling) which should be paid in Cash or Postal Orders.
You will note that the above is for a married person. If you are registering the birth as a single mother then you will only need your own documents and will not need the documents of the father of the child. The fees may change so check with the Embassy as to what the current prices are.
Zimbabwe Embassy in London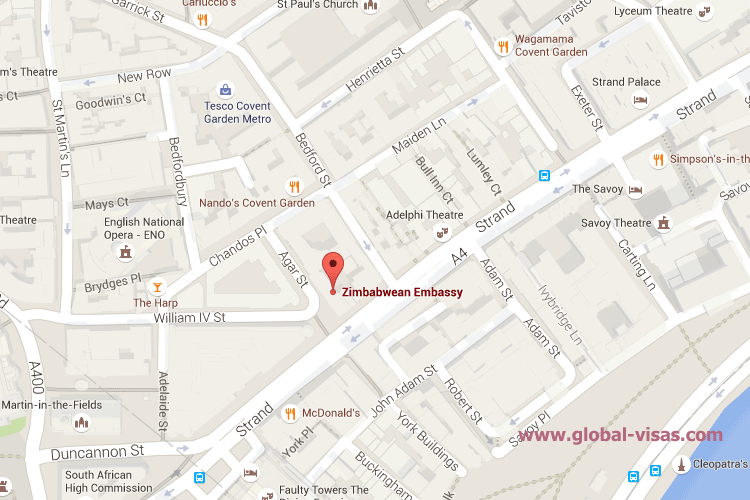 Zimbabwe Embassy in London
Address:
Zimbabwe House, 429 Strand, London WC2R 0JR, UK - Nearest Tube: Charing Cross
Tel:
020 7836 7755
Fax:
020 7379 1167
Office Hours:
Mon: 09:00 - 17:00
Tue: 09:00 - 17:00
Wed: 09:00 - 17:00
Thu: 09:00 - 17:00
Fri: 09:00 - 17:00
If you require more assistance then contact the Zimbabwean Embassy for more assistance. You can also search this website for more information about Zimbabwe such as tourist visas or a business visa for Zimbabwe. Consular assistance has been added above being the most common service sort in London being birth registration as well as passport renewal for Zimbabwe.

Incoming search terms: