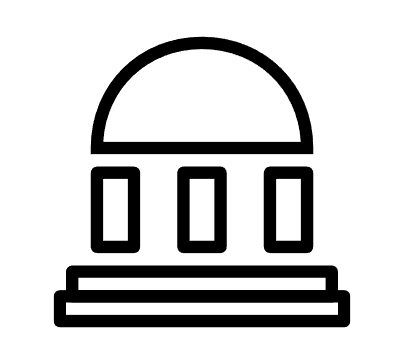 You will find the Indian Embassy in Armenia in the city of Yerevan in Armenia. The Indian Embassy in Armenia can offer consular services such as replacing your Indian passport or other services which are on offer for Indian nationals. You will also find the ability to apply for a visa for India while in Armenia.
Indian Embassy in Armenia
These are some of the services offered by the Indian Embassy in Armenia
How to apply for an Indian Passport in Armenia
If you are over the age of 18 then the following will be applicable to you.
New passport as current passport in 1 year from expiring (having a valid Visa)
You will need to fill in an application form for the new passport;
You will need a total of 4 Passport size (51mm x 51mm) identity photos with white background;
Also your current passport with its visa must be submitted;
There needs to be a sworn affidavit with the application;
There must be a police verification if your identity needs to be confirmed;
Payment in fees (Armenian Dram only).
The above is applicable for those who have a passport and a current visa in the passport. The exact same process is applicable if there is an expired visa in the passport. The procedures are the same with our without a visa in it. Note that all applications for expired (over a year) Passports must be submitted in person by the applicant and not sent by post.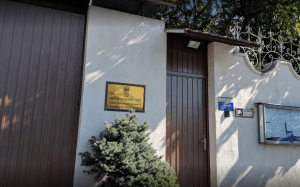 If there are no blank pages in the Passport
The Indian Embassy will not allow additional booklets. Note that once the last page of the current passport is exhausted, you will need to apply for a new passport. The process is the same as above if you have a near expired or expired passport.
See the requirement above for the application process to apply for a new passport at the Indian Embassy in Yerevan, Armenia. Note that you should try and do this before there are no longer any blank pages in your passport.
Change of name to to divorce, marriage or other circumstances
Much like above you will need to apply for a new Indian passport and provide the Embassy with the old passport. Note also that you will need to provide the additional documentation for the change in your surname. This can be:
Marriage certificate
Divorce deed
Death certificate (as the case may be) duly attested
These will all have to be issued by the government of Armenia. You will be required to have all the originals of the death certificate, marriage certificate or the divorce deed from the courts.
Change of your name
If you are going to change your name then you will need all the above documentation as for applying for a new passport plus the following will be needed. You will need all the originals for this if you have changed your name.
Cuttings of two leading newspapers (one in India and the other in Armenia/Georgia) carrying advertisement notifying the change of name and asking for any objection thereof to be reported to Embassy of India within 30 days of the publication.
You would have so seek legal assistance in this regards as it can be a difficult process changing your name as an Indian national while in Armenia. The additional documentation you will also need the originals and a letter confirming this from the newspaper where the advert has been run.
Change of address
If you are going to change your address then you will need a valid proof of new address in the form of utility bills, latest monthly bank statements, property papers as you can see. You will need the originals for this.
How to register an Indian child born in Armenia
If you have given birth in Armenia then you will need to register the child within one year of their birth. If you register later than one year you will need the citizenship  granted after obtaining clearance from Ministry of Home Affairs. Note also that a child born outside India on or after 3rd December 2004 shall not be a Citizen of India.
This unless the parents declare that the minor does not hold passport of another country also that the birth is registered at an Indian consulate or Embassy within one year of the date of birth or with the permission of the Central Government. The following documents are needed:
Original and photocopy of the Birth Certificate issued by the Armenian/Georgian authorities;
***Note this with its duly notarized English translation.***
Also a copy of the Indian passport of both the parents;
As well as a copy of the certificate of Indian citizenship if acquired by registration/naturalization;
There must also be a copy of the marriage certificate;
Also very importantly, the declaration that the child does not hold the passport of any other country;
Then also the payment of fees in cash (Armenian Dram only).
Visa application for an Indian visa
There are a number of visas which you can apply for from India. See the list of Indian visas on this website. These are listed as the following. See the pages for each of the visas:
Tourist Visa (TV)
Tourist Visa On Arrival (TVoA)
Business Visa (BV)
Student Visa (STV)
Transit Visa (TRV)
Employment Visa (EV)
Fees for the visa service are accepted in cash in Armenian Dram only at the Embassy. The Indian visa fees differ depending on the category of visa you are applying for. Most visas to India are tourist visas for India. You can also apply online for the Indian visa. The visa process normally takes two working days, so try and complete this before a Thursday or a Friday if it is urgent.
The applications hours for an Indian visa in Armenia is as follows:
To submit applications: Monday to Friday, 0930-1200 hours
No Visa Services are offered on Weekends and Holidays.
To collect passports/documents: Monday to Friday, 1630 – 1700 hours
Finally also note that only the following nationals can obtain a 30 day visa on arrival at the main entry point only. These are nationals with passports from Finland, Japan, Luxembourg, New Zealand, Singapore, Cambodia, Vietnam, Philippines, Laos, Indonesia and Myanmar.
Indian Embassy in Armenia Address
You will note that the Embassy is close to the Kinezis Medical Center in Yerevan in Armenia.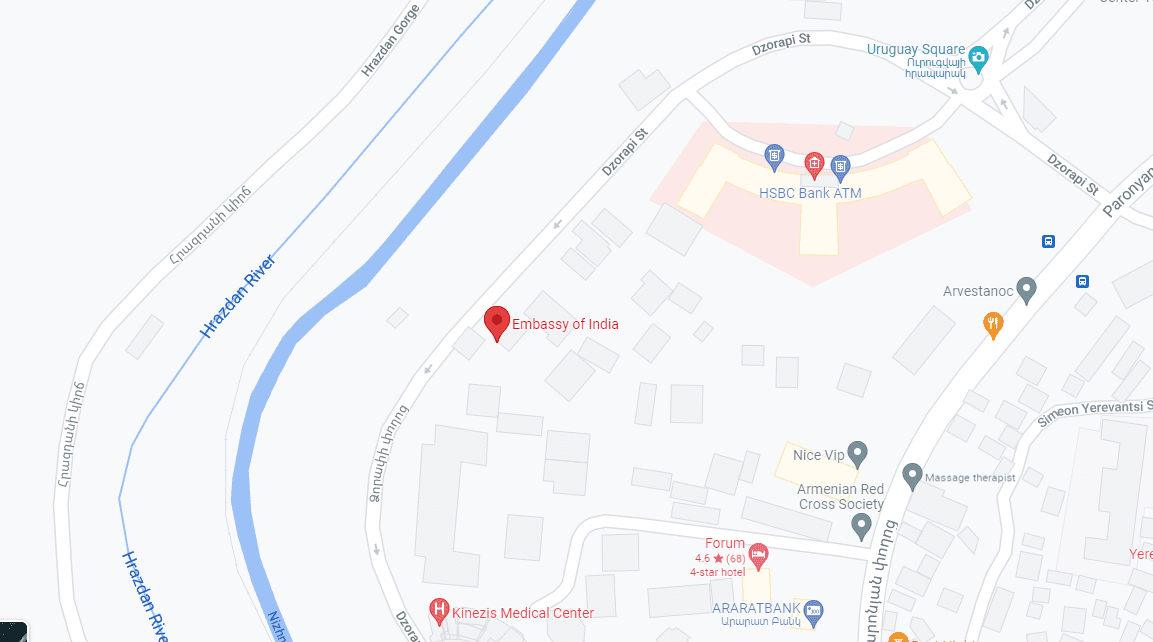 Map to the Indian Embassy in Armenia
Location:
Embassy of India, Yerevan

50/2 India Street, Yerevan- 0015

Republic of Armenia

Contact Numbers:
Telephone No. :
(+374) 10 539 173/174/175
Fax No :  
(+374) 10 533 984
Email :



Website :
www.eoiyerevan.gov.in
Emergency Number : 
00374-55009118
See also the other Indian Embassies in Asia on this website for more details. Also the Indian visa types and current costs as well as the process to obtain these visas for your Indian holiday or religious visit.