The Zimbabwean Embassy in Moscow can assist you if you are in need of consular assistance. The latest address and contact details such as telephone, fax and email contact have been added below for you to contact them. You do need to apply for a Zimbabwean Tourist Visa as a Russian however there are also visa on arrivals if you are going on holiday to Zimbabwe.
As a Zimbabwean you can also search this site on the sidebar for more assistance and information on how to obtain the birth registration documents at the Embassy in Moscow and then complete these documents to register your child born abroad back in Harare. If you have lost you passport then you can also apply for a ETD temporary passport or emergency travel document if you have lost or had your passport stolen while in Russia. You can also contact the Zimbabwean Embassy in Moscow to renew your passport.
The Zimbabwean Embassy in Moscow is located not far from the French Embassy in Moscow and the Argentina Embassy in Moscow.
Zimbabwe Embassy in Russia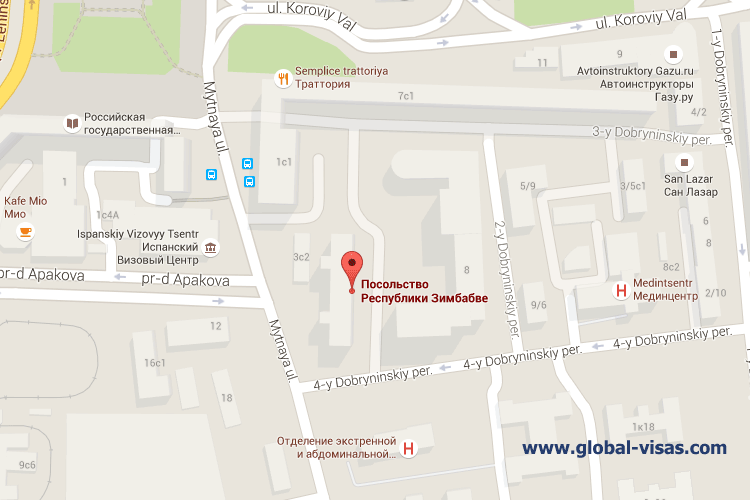 Zimbabwean Embassy in Moscow, Russia
| | |
| --- | --- |
| Address: | Mytnaya Street 3, Office 29-31, Moscow, Russia |
| City: | Moscow |
| Tel: | 7-499-230-1864 / 2301932 / 230-1932 |
| Fax: | 70-95-2302497 |
| Email: | |
| Office Hours: | |
| | |