Wanting to visit Zimbabwe then you are going to need to visa. Certain nationalities do not need a visa to visit Zimbabwe as tourists. The Visa Upon Arrival in Zimbabwe for those traveling on tourism can stay for a maximum stay of 3 months. See the nationalities below.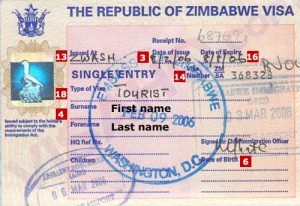 The visa fees vary from between USD $30.00 and USD $100.00 for the visa on arrival. Note however that these are only available at Harare (HRE) and Victoria Falls (VFA) International Airports. You will also have to hold a return/onward ticket or they will be refused entry to you. 
You can apply online for an e-Visa and it takes about 2 days to have it issued. You can apply for double entry as well as single entry tourist visas for Zimbabwe. Online you can also apply for a business visa or transit visa for Zimbabwe. If you are applying online then you will need to apply at least 3 weeks before you departure date. The visa is valid for 3 months from the date of issue. Search this website for your closet Zimbabwean Embassy in your country if you need assistance.
Nationals of the countries do not need a visa
1. ANGOLA
2. ANTIGUS & BARBUDA
3. ARUBA
4. BAHAMAS
5. BARBADOS
6. BELIZE
7. BOTSWANA
8. CAYMAN ISLANDS
9. CYPRUS
10. DR CONGO
11. FIJI
12. GHANA
13. GRENADA
14. HONG KONG
15. JAMAICA
16. KENYA

17. KIRIBATI
18. LEEWARD ISLANDS
19. LESOTHO
20. MADAGASCAR
21. MALAWI
22. MALAYSIA
23. MALDIVES
24. MALTA
25. MAURITIUS
26. MONTSERRAT
27. MOZAMBIQUE
28. NAMIBIA
29. NAURU
30. SAINT LUCIA
31. SAINT VINCENT AND THE GRENADINES
32. SAMOA WESTERN

33. SEYCHELLES
34. SINGAPORE
35. SOLOMON ISLANDS
36. SOUTH AFRICA
37. ST KITTS AND NEVIS
38. SWAZILAND
39. TONGA
40. TRINIDAD AND TOBAGO
41. TURKS AND CAICOS ISLANDS
42. TUVALU
43. UGANDA
44. TANZANIA
45. VANUATU
46. ZAMBIA
Countries whose nationals are issued visas at the port of entry
***The eligibility criteria for Chinese nationals
a. Only Chinese tourists travelling as a group cleared by Tour Operators and Travel Agencies in the People's Republic of China qualify.
b. Chinese business persons and other citizens of the People's Republic of China as approved by their Government need to apply for visas online.
1. Algeria
2. ANDORRA
3. ARGENTINA
4. AUSTRALIA
5. AUSTRIA
6. AZERBAIJAN
7. BELARUS
8. BELGIUM
9. BERMUDA
10. BOSNIA AND HERZEGOVINA
11. BRAZIL
12. BRITISH VIRGIN ISLANDS
13. BRUNEI DARUSSALAM
14. BURUNDI
15. CANADA
16. CAPE VERDE
17. CHINA
18. COMOROS
19. COOK ISLANDS
20. CROATIA
21. CUBA
22. CZECH REPUBLIC
23. DENMARK
24. DOMINICAN REPUBLIC
25. EGYPT
26. EQUATORIAL GUINEA
27. ESTONIA
28. FINLAND
29. FRANCE
30. FRENCH POLYNESIA
31. French W/Indies

32. GEORGIA
33. GERMANY
34. GILBRALTAR
35. GREECE
36. HAITI
37. HUNGARY
38. ICELAND
39. INDONESIA
40. IRAN, ISLAMIC REPUBLIC OF
41. IRELAND
42. ISRAEL
43. ITALY
44. JAPAN
45. KAZAKHSTAN
46. KOREA (SOUTH)
47. KUWAIT
48. KYRGYZSTAN
49. LATVIA
50. LIECHTENSTEIN
51. LITHUANIA
52. LUXEMBOURG
53. MACAO
54. MARSHALL ISLANDS
55. MICRONESIA, FEDERATED STATES OF
56. MOLDOVA
57. MONACO
58. NETHERLANDS
59. NEW CALEDONIA
60. NEW ZEALAND
61. NORTHERN MARIANA ISLANDS
62. NORWAY

63. PALAU ISLAND
64. PALESTINE
65. PAPUA NEW GUINEA
66. POLAND
67. PORTUGAL
68. PUERTO RICO
69. RUSSIAN FEDERATION
70. RWANDA
71. SAMOA (AMERICA)
72. SAO TOME AND PRINCIPE
73. SERBIA
74. SLOVAKIA
75. SLOVENIA
76. SPAIN
77. SURINAME
78. SWEDEN
79. SWITZERLAND
80. TAJIKISTAN
81. TURKEY
82. TURKMENISTAN
83. UKRAINE
84. UNITED ARAB EMIRATES
85. UNITED KINGDOM
86. UNITED STATES OF AMERICA
87. URUGUAY
88. UZBEKISTAN
89. VATICAN
90. VIRGIN ISLANDS
Countries whose nationals need a visa before travelling
1. AFGHANISTAN
2. ALBANIA
3. ARMENIA
4. BAHRAIN
5. BANGLADESH
6. BENIN
7. BHUTAN
8. BOLIVIA
9. BULGARIA
10. BURKINA FASO
11. CAMBODIA
12. CAMEROON
13. CD'ivoire
14. CENTRAL AFRICAN REPUBLIC
15. CHAD
16. CHILE
17. COLOMBIA
18. CONAKRY
19. CONGO BRAZAVILLE
20. COSTA RICA
21. DR KOREA
22. DJIBOUTI REPUBLIC
23. ECUADOR
24. EL SALVADOR
25. ERITREA
26. ETHIOPIA
27. FRENCH GUIANA

28. GABON
29. GAMBIA
30. GUAM
31. GUATEMALA
32. GUINEA
33. GUINEA-BISSAU
34. GUYANA
35. HONDURAS
36. INDIA
37. IRAQ
38. JORDAN
39. LAO PEOPLE's DEMOCRATIC REPUBLIC
40. LEBANON
41. LIBERIA
42. LIBYAN ARAB JAMAHIRIYA
43. MALI
44. MAURITANIA
45. MEXICO
46. MONGOLIA
47. MOROCCO
48. MYANMAR
49. NEPAL
50. NICARAGUA
51. NIGER
52. NIGERIA
53. NORFOLK ISLAND
54. OMAN

55. PAKISTAN
56. PANAMA
57. PARAGUAY
58. PERU
59. PHILIPPINES
60. QATAR
61. REFUGEE
62. REUNION
63. ROMANIA
64. SAN MARINO
65. SAUDI ARABIA
66. SENEGAL
67. SIERRA LEONE
68. SOMALIA
69. SOUTH SUDAN
70. SRI LANKA
71. SUDAN
72. SYRIAN
73. TAIWAN
74. THAILAND
75. MACEDONIA
76. TOGO
77. TUNISIA
78. VENEZUELA
79. VIET NAM
80. YEMEN

Incoming search terms: