You can see that the Embassy of Norway will also assist Swedish nationals in Angola and they operate as one singular Embassy for both countries in Luanda, Angola. You can see from the map that it is close to the Russian Embassy as well as the Brazilian Embassy in Angola. Speak to the Embassy if you wish to speak about a Norwegian Visa, Swedish Visa or register a marriage at the Embassy.
You will notice from the map that the Embassy will be very easy to locate in Angola. Note the operating hours of the Embassy in Angola.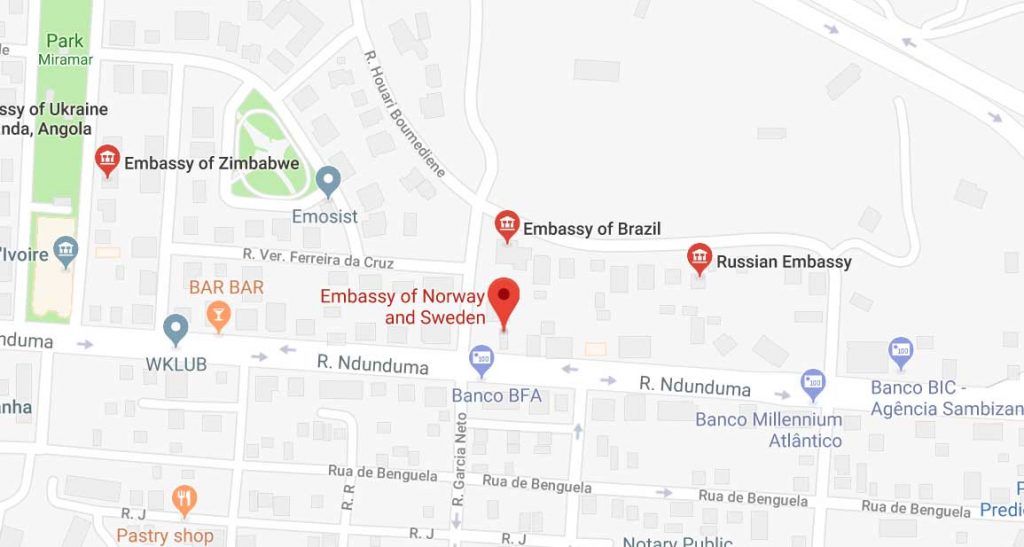 Embassy of Norway and Sweden in Angola
Address : 9, R. Garcia Neto, Luanda, Angola 57Q3+J3 Luanda, Angola
Website : noruega.ao
Tel : +244 222 449 936
Norwegian Embassy in Angola
Postal address:  C.P. 3835, Luanda, Angola
Telephone: +244 222 449 936/ 447522 / 449248 / 449004
Email: 
Operating Hours
Monday to Thursday 7:30 am to 3:30 pm.
Friday 7:30 am to 1:00 pm.
Visa section: Monday to Friday 9 am to 12 pm.
Incoming search terms: