The Embassy of Brazil in Angola or Embaixada do Brasil is located close to the US Embassy in Angola as well as close to the Russian Embassy in Angola and the Zimbabwean Embassy in Angola. You can see the map listed below for the Brazilian Embassy. You will be best served by contacting them before visiting the Embassy.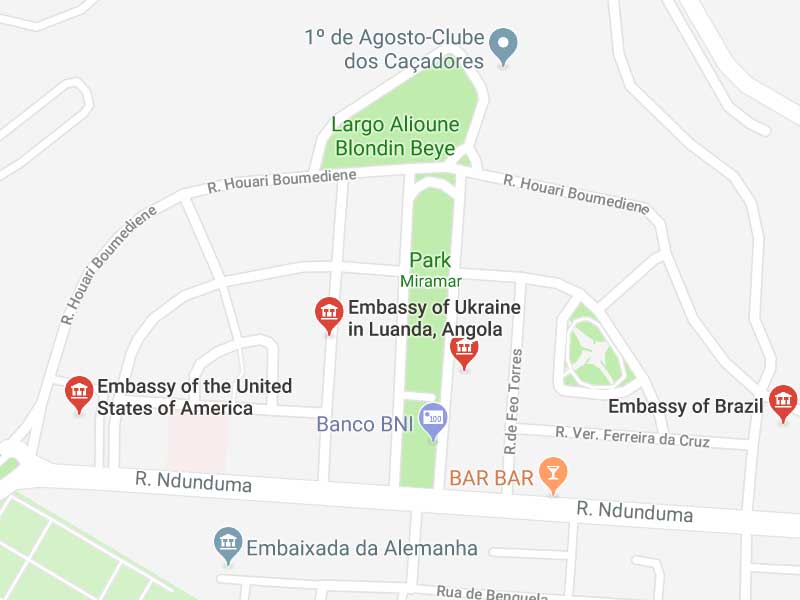 Embassy of Brazil in Angola
There are a number of issues covered by the Brazilian Embassy in Angola and as stated it is always best to email them first. The Embassy of Brazil in Luanda receives passport and travel authorisation requests for children from Monday to Friday, from 9:00 a.m. to 12:00 p.m. You can also register a divorce or marriage at the Embassy as well as Brazil passport applications and passport renewals in Angola is done from 9am to 12 noon (Monday to Friday). You can also apply for a visa for Brazil by completing their electronic scheduling which is not always up so it is best to email them beforehand.
Address: R. Houari Boumediene 132, Luanda, Angola 57Q3+W4 Luanda, Angola
Website : luanda.itamaraty.gov.br
Tel : +244 222 442 010
Consular service  – only for Brazilians, and for contacts of extreme urgency (cases of arrest, death, medical evacuation): 923 284 100.
Emails:
Consular :
General :  
Operating Times: 
Friday : 8AM–4PM
Saturday : Closed
Sunday : Closed
Monday : 8AM–4PM
Tuesday : 8AM–4PM
Wednesday : 8AM–4PM
Thursday : 8AM–4PM

Incoming search terms: